Mega Moolah Slot Review
Mega Moolah is one of the most popular slots available at any online casino. It's a simple 25-payline game with scatter symbols, 4 progressive jackpots and the ability to create overnight millionaires. It holds the record for the biggest ever payout and in 2020 alone it delivered over £70 million in prizes. Our Mega Moolah review takes a closer look at all of the elements that come together to make this slot so fantastic.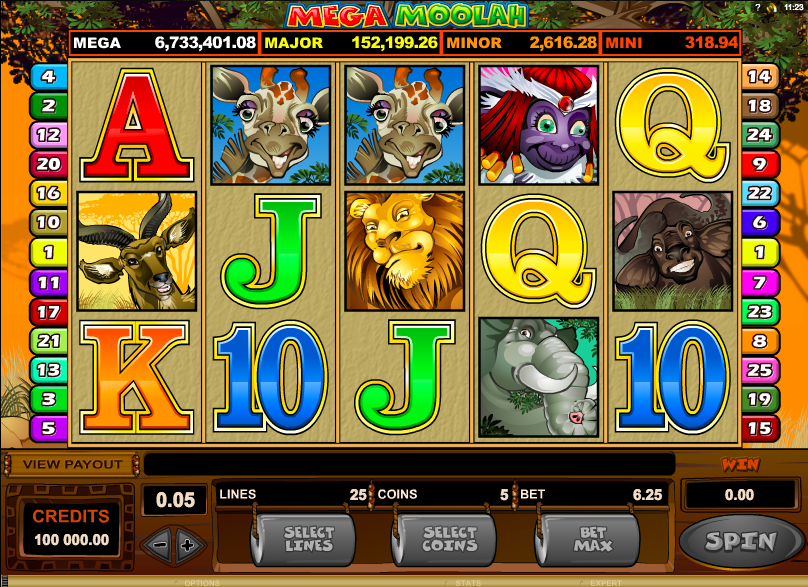 How to play Mega Moolah
The basic gameplay isn't anything out of the ordinary and the mechanics follow a standard 3-reel format with familiar wilds and scatter features. But it was created over 15 years ago so we can cut it some slack! It's obviously the huge prizes that draw the crowds in so you could argue that gameplay was always kind of playing second fiddle anyway.
That isn't to say that there's not loads of fun to be had along the way though! And we'll prove it right now.
The game uses coins rather than currency, which does give it an advantage over other slots. The huge jackpots are worth the same amount of coins in GBP or EUR.
One thing to mention is that you can usually try out many of the popular slots before you decide to wager any cash. Unfortunately, as this is a progressive game, a Mega Moolah demo isn't available.
A Mega Moolah casino may give you a chance to play for free by using one of the bonus offers available but more on that a little later.
Pay table and paylines
Microgaming's Mega Moolah has 25 fixed paylines that require between two and five matching symbols to be present to win a prize along any of those lines. There used to be an option to adjust the paylines between 1 and 25 but only the max line option would give you the opportunity to win one of the jackpots. This is now set to a fixed 25 lines to level the playing field.
The winning lines are in a fairly standard layout starting with a straight line across the top, middle and bottom rows. The pattern then varies for the following 22 lines.
Prizes along these paylines will be anything from 0.16 to 600 times your stake value, or higher when scatter symbols roll in. The payouts vary greatly depending on the symbols that show up and we'll take a look at those in a moment.
Mega Moolah wager limits
The game has a very low minimum which is nice for those who aren't looking to risk too much money. Stakes start at just £0.25 and go up to £6.25. Naturally, the more you gamble the higher your winnings could potentially be.
To have a chance of winning the jackpot you need to enter the bonus round. This opportunity appears randomly and isn't dependent on landing specific symbols on the win lines. As far as we know, you will have more chances of seeing the bonus round pop up if your stakes exceed the £0.25 minimum.
The Mega Moolah experience
There's a definite air of excitement when playing this game. Never knowing quite when that coveted bonus round might appear really keeps you on the edge of your seat. As soon as you sit down to play, you can't help but dream about being the next Mega Moolah winner.
The look and feel of a slot are important as you never know how long you might want to play the game. Clunky graphics and nasty sound effects never did anything for anybody. However, we're happy to report that Mega Moolah doesn't fall short on this front and it is good fun watching the game unfold.
Graphics and theme
Mega Moolah slots can come in various themes owing to the fact that several games all share the same progressive prize. This original version, however, is still one of the favourites. Its cute African safari feel helps whisk you away for a while as you're playing.
It's obvious that a good deal of thought went into the graphics and soundtrack which keeps your focus right there in the Serengeti as you're enjoying all the action. There's a subtle bird song in the background and every time the winning symbols roll in, the tension builds with the sound of the animals.
One of the best noises you can wish to hear is the lion's roar as this means you have wilds in play. Not only do these wilds add to your chances of landing a win with any of the other symbols but they can also equal a cash payout when they appear together on a winning line. Playing the max bet and landing 5 lions on a win line will land you a cool £3,750.
Mega Moolah Symbols
As you know, the Mega Moolah slot has an exciting safari theme so it's only right that the winning symbols would each represent an iconic animal that you can find while on safari.
There are also the standard 10, J, Q, K and Ace that make up the less valuable symbols. Of these, the best win you can expect to see is 5 aces on a winning line, and this is worth £37.50.
Moving on from those, you'll find the animal icons.
Up first we have the kudu, or antelope if you prefer. 3, 4 or 5 of these on a winning line will get you = 0.4, 2 or 10 x your stake respectively.
Next is the zebra. 3, 4 or 5 of these pays 0.8, 4 or 16 times your stake.
3, 4 or 5 Giraffes are worth 1.2, 5 or 20 x the stake.
Buffalo are even more valuable and 2, 3, 4 or 5 on a line sees you multiply your wager by 0.16, 1.6, 6 or 24.
More valuable still are elephant symbols. 2, 3, 4 or 5 of these get you 0.24, 2, 10 or 30 x your stake.
And the most coveted of them all is, of course, the lion. 2, 3, 4 or 5 on a win line will land you = 0.6, 5, 60 or a crazy 600 times the stake value.
There is also a scatter symbol, which comes in the form of a witch doctor. These can unlock a bonus feature as well as pay out cash prizes.
Features of Mega Moolah
The Mega Moolah slot machine not only has some amazing wins, which will multiply depending on the symbols that roll in. But it also has another main feature that adds an extra layer of excitement to the mix.
The witch doctor scatter symbols unlock cash prizes as well as a free spins bonus.
Landing 3, 4 or 5 of these will see your stake multiply by 3, 20 or 100. This in itself is an awesome haul but you'll also see 15 free spins come your way too.
Free spins rounds
After activating your 15 free spins by hitting 3 or more scatter symbols, you enter the exciting and tense world of free spins. All wins during this feature are multiplied by 3 and there's even a chance of landing 3 more scatter symbols and grabbing another 15 bonus spins on top.
You never know what you might score while this feature is rolling. It could be thousands of pounds.
Bonus rounds
The main bonus round that everybody hopes to uncover is the jackpot bonus wheel. There's nothing you can do to influence it and it could turn up at any moment.
When you take your spin on the jackpot wheel, you hold your breath and start praying! You have a chance of walking away with one of the four progressive prizes. This figure builds all the time and could be tens of millions of pounds.
There is a seed prize for each of the jackpots, which means that Microgaming guarantees a minimum amount for each one.
The mini jackpot starts at £10.
The minor jackpot is £100 minimum.
A major jackpot gets you at least ten grand.
Finally, the mega prize will payout £1 million+
Mega Moolah free spins
Unfortunately, there isn't a demo version of Mega Moolah to play and practice on. As it's a progressive slot, it's only possible to generate the wins in a real-world scenario.
But all is not lost!
As you probably know, there are loads of top bonuses available at the majority of online casinos. And one of the most popular is the free spins no deposit promo.
When you sign up to a site with this deal, you'll have a choice of games that you can play to redeem your bonus spins. If this game is on the list, then you'll effectively be able to play for free. The great advantage this has over a demo version is that you'll be able to win cash prizes as a result.
Mega Moolah progressive jackpots
The main prize, called the 'mega jackpot' starts at an eye-watering £1 million pounds. But that doesn't mean that it won't pay more than that.
Over the years, there have been loads of Mega Moolah jackpot winners. We thought we'd seen the biggest ever a few years ago when one lucky player went home with €18 million.
However, that all changed in 2021 when the record was smashed again. This time, nearly €20 million landed in somebody's pocket. An incredible, life-changing sum of money.
Mega Moolah slot RTP
The Mega Moolah RTP figure does vary depending on where you do your research. The reason for this is that some sites publish the RTP for the progressive jackpot version of the game while others use another figure which applies to the version without the pooled prizes.
To help clarify matters, the progressive slot has an RTP of 93.42% and the non-progressive comes in at 88.12%.
Pros
Simple design
Huge prizes
Low volatility
Cons
Lack of demo version
Can't select number of lines
Our Mega Moolah rating
The Mega Moolah slot UK is an awesome game that has stood the test of time. Players old and new will seek out this African adventure for a chance to win some life-changing sums of money. It's a little bit like playing the lottery in that sense, but a lot more fun!
It's not often that you'll find such a low volatility slot with 4 huge jackpots and a tiny minimum stake.
FAQ
Hopefully, this page has covered everything you wanted to know about the game. But here are a couple of popular questions just in case we've missed anything.
Where can I find mega Moolah free play?
The only way you can play this game for free is by signing up to a site with a bonus offer that permits you to play this slot. The lack of a demo version is a shame but the progressive prizes change how the game reacts, which in turn makes it hard to recreate in a simulated setting.
Who makes the Mega Moolah game?
This slot is brought to you by the software geniuses at Microgaming. The Isle of Man-based company is responsible for loads of great slots, table games as well as online casino platform software. They've been around for a long time and have a fantastic reputation in the industry.
Is there more than one Mega Moolah slot?
Mega Moolah online slot games actually come in various themes. This is one of the great features of this big jackpot series. You can play for the same pooled prize on the original safari-style game or you could try out Absolutely Mad or Atlantean Treasure among others.